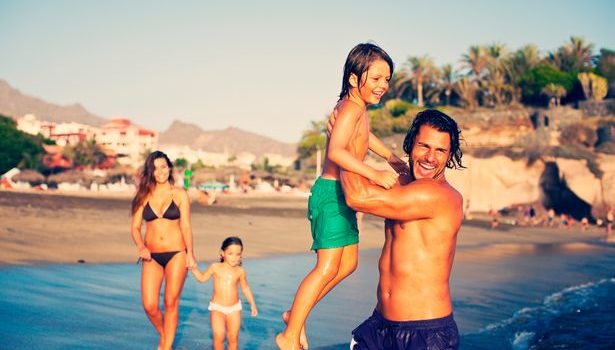 4 Family Friendly Holidays to Take This Year
Every month is a good month to book yourself a trip, of course, but never more so than in January. In the depths of dark and gloomy winter, the thought of a holiday can keep us going and it is a fun to focus on choosing and planning a break. When you are looking to arrange a holiday for your family, you do need to take everyone's needs and preferences into account and sometimes it can be tricky to know quite where to start.
That is why today we want to offer up a little inspiration as we share 4 family friendly holidays to take this year. Pick one or go for all four!
Rent a Private Villa
You could book a break anywhere in the world, from Cornwall to Costa Rica, and rent a private villa.
Villa holidays are often a perfect solution for families as they offer you a home from home. You should have plenty of space to spread out, separate rooms for the children and kitchen facilities so that you can be fully self-catering. This can be great for families as it can keep the costs down, rather than eating out for every meal, and it offers greater flexibility.
Villas can be tucked away in the hills or they can be part of a larger complex in the middle of a town, so think about the location that would suit your family best. Many children enjoy swimming on holiday, so it is worth looking for a villa that includes that option, and then check to see whether any other activities or amenities are provided.
Take a Cruise
Taking a cruise is becoming a more family friendly option every year. More and more families are opting to holiday this way and cruise companies are running more cruises to appeal to the family holiday-maker.
The reason that cruises are becoming so popular with families is the ease of the break. They are a wonderful way to visit several destinations without needing to check in and check out of various hotels, unpack and pack at each stop, and factor in lengthy road trips.
Cruise ships have plenty of entertainment and activities on board to keep the kids happy and there are usually a wide variety of restaurants to choose from, catering to the most fussy of eaters.
You might have a certain area in mind that you are keen to explore, or you might have an agent or operator that you want to consult to help you play everything perfectly, such as Bolsover Cruises.
Immerse Yourself in Disney World
There are not many children that would say 'no' to a Disney World holiday! Perhaps this is the year that you would like to take the family to meet the mouse.
Disney World is situated in Orlando, Florida, so it offers year round sunshine. There are four main parks to explore in Disney World; Magic Kingdom, Epcot, Hollywood Studios and Animal Kingdom, and there are then two water parks to enjoy, and the shopping and entertainment area at Disney Springs. Within the resorts and parks there are dozens of rides, shows, attractions and experiences to keep you busy, along with plenty of places to eat.
You can choose to stay onsite at Disney World, or opt for one of the many hotels, resorts and villas in the Orlando area. If you are looking for a break from all things Disney, you can explore the area, visit other theme parks such as Universal Studios or head to the beautiful beaches of Florida.
Enjoy a City Break
There are hundreds of cities out there that are bound to appeal to you to sample as a family. City breaks can be perfect for families as they offer that combination of sights to see, things to do and then downtime in the hotel. A visit to a city steeped in history also offers an educational opportunity.
In Europe alone, cities such as Paris, Madrid, Amsterdam, Rome, Barcelona, Florence, Copenhagen and Berlin all have so much to offer visiting families, and there are so many more. You could choose to go further afield and head to Marrakech, New York or Tokyo, all rich in their own culture.
If the destination is not fixed in your mind and you are open to several possibilities, it is worth looking for the best flight and hotel options. These can change daily, so set up flight alerts and wait until you spot a price that you are happy with before booking.