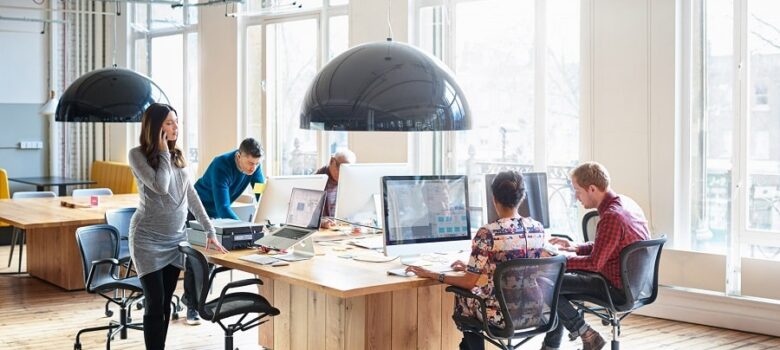 Ideas to Improve the Flexibility of Your Office Space
A lot of people are re-thinking their office environment, especially due to the pandemic. More people are working from home and using modern garden offices to separate their work environment from their main property. Others are thinking about making their corporate space more flexible.
Suspended ceilings are secondary ceilings that conceal utility services such as air conditioning and ventilation, plumbing, lighting and IT wiring, and heating fittings and fixtures.
A suspended ceiling can also act as a platform for the attachment of light fittings, smoke alarms, motion detectors, sprinkler systems and speakers, for instance, without compromising the existing fabric of the building.
Most suspended ceilings are constructed of tiles that can easily be removed or include access panels to allow for repair, maintenance or replacement of services when needed. A suspended ceiling is well worth considering if you're planning an office refurbishment. Here, we explain why.
How a Suspended Ceiling Can Enhance an Office Refurbishment
Employing suspended ceilings has proved hugely beneficial to businesses and public buildings alike. There are a number of reasons for this. For one thing, creating a suspended ceiling has the effect of increasing the flexibility of existing workspace. With suspended ceilings, all the electrical wiring, plumbing and so on is easily accessible rather than being concealed under floorboards or in walls, as it would be in a house or an older office. That means that future move-arounds are fast, easy and inexpensive to accomplish, so your workspace can grow and develop with your organisation. Then, there's the fact that a suspended ceiling means all that unattractive wiring is not on display – adding to the aesthetic of the office space. Also, building services will be safely tucked away for health and safety reasons, protecting staff from harm when wires are knocked or develop electrical faults, for instance.
Suspended Ceilings Also Have These Benefits
Speaking of health and safety, suspended ceilings also serve to protect wiring, air conditioning and other utilities from dust, moisture and corrosion. This will help lessen routine wear and tear or accidental damage, which will in turn reduce replacement or repair costs over the longer term. A suspended ceiling is additionally a useful method of fire separation; that is, it will help stop the spread of fire into neighbouring areas above. This can allow valuable time for the building occupants to escape in the event of fire, as well as minimising damage to the fabric of the building. Finally, it's even possible to choose tiles that offer additional thermal insulation and sound absorbing properties. That means heat won't escape as quickly, conserving energy and reducing heating bills. Moreover, excess noise from rooms above and below will be absorbed, meaning offices, classrooms and even hospital wards can be kept quieter for the comfort of the occupants.
We hope that this idea has helped you to see how office flexibility can boosted. This is just one improvement to consider when it comes to your work environment today.