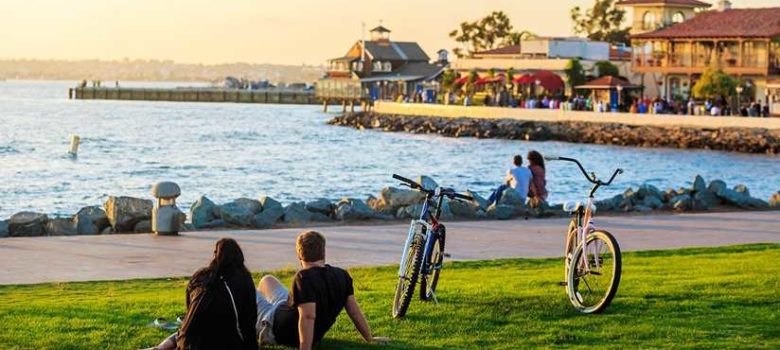 Top 5 Things to Do in San Diego: A Guide for Couples in Love
San Diego is a wonderful destination for romance. Here you and your loved one can enjoy a great number of memorable experiences from whale watching to floating over the area in a hot air balloon. Plan your budget wisely to make your trip as enjoyable as possible, because according to BudgetYourTrip, San Diego is not the cheapest vacation spot. However, if you book in advance and choose your timing right, you'll be able to enjoy an unforgettable adventure.
5 Most Romantic Things to Do in San Diego, California
#1: Fly over the Coastline in a Hot Air Balloon
The first hot air balloon flight dates back to 1783 and the technique of it remains largely the same. However, modern balloons are safer, comfier, and more efficient due to improved tech. You should give this experience a try because the view of San Diego from above is breathtaking. There is also no denying the fact that the adrenaline rush of flying along with the cuddling to shield from the cool air far up make for a great romantic setting.
There are a few hot air balloon rides in the San Diego region, so you can choose between enjoying the views in the morning or at sunset. There are usually discounts available during the holiday season.
#2: Whale Watching
While it might not seem like the most romantic of experiences at first, this kind of unique and special adventure is great for bonding. If you choose to enjoy San Diego whale watching, you will not only get a chance to see these marvelous creatures. You can also learn a lot about them as well as the ocean as a whole.
Whales are truly majestic creatures and seeing these huge leviathans in their natural habitat is exhilarating. However, be aware that unless you go for a tour with an experienced and dedicated crew, you might miss the actual whales. Therefore, you should stick to experienced providers that stick to a limited number of daily trips to ensure maximum customer satisfaction. If you are on a budget, weekday tours are usually cheaper and you get a discount when booking in advance.
#3: Take a Walk Through Balboa Park
A visit to Balboa Park is one of the most important things to do in San Diego. This place is beautiful and offers a variety of entertainment options. Whether you want to admire the beauty of nature or incredible architecture, here you can find anything you wish.
If you are a couple who is looking for not only romantic atmosphere but also new things to learns, the museums and exhibits will provide plenty of opportunities.
#4: Go on a Cruise
The majority of the best things to do in this part of sunny California have to do with water. And if you are looking for the most romantic of experiences, you definitely need to enjoy the best sunset cruise in San Diego. There is nothing that can compare to holding your love in your arms while enjoying a spectacular sunset while out in the ocean. This experience is so intense, you might consider going for it again during your honeymoon.
This kind of setting will also be perfect for making a proposal. But if you need something more intimate, private charter cruises San Diego will work out better. This way, you will not have to share your precious moments with any audience. The crew working such cruises is very discreet and can ensure the couple gets their privacy.
#5: Catch a Classic Movie at a Drive-In Theater
Movies and dinner has long been the universal formula for a romantic date. In San Diego, you can add some retro style to the experience by going to a drive-in theater. This is a perfect place for enjoying some timeless classic as well as some private time. You won't be bothered with uncomfortable chairs and noisy people around you. And the very place helps set the mood for a night of romance.
San Diego has plenty of dining options to offer for any budget, so you only need to pick a theater closest to the place you want to visit. Account for traffic so your night isn't ruined by being stuck on the road.
A couple in love will be able to have a great time exploring San Diego. Of course, sandy beaches are the main attraction of this place. However, you can get a lot of other entertainment that will help make your trip memorable.